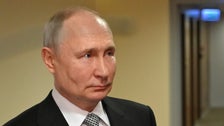 Russia has just pulled out of a global grain deal which allowed exports to leave Ukraine, in a move which has been condemned as a form of "blackmail."
The Black Sea Grain Initiative expired Monday and now will not be renewed for another year, because Moscow claims its own conditions for the deal were not being met.
This decision puts the food supply for millions around the globe in jeopardy. Here's what you need to know.
What Was The Black Sea Grain Initiative?
A Russian wartime blockade imposed after the invasion had meant Ukrainian farmers were struggling to sell their exports, net importer nations like Egypt and Libya were facing depleted food suppliers and the global cost of living crisis was worsening.
Ukraine is seen as one of the world's largest breadbaskets, producing enough food for 400 million people during peacetime with around five million tonnes of grain and oilseeds being exported every month.
But after Russia's invasion, millions of tonnes of grain were left in storage and there were shortages elsewhere.
The initiative was therefore a massive breakthrough. Brokered by the United Nations and Turkey last summer, the agreement meant Russia would allow Ukraine to export grains and oilseeds through the Black Sea for a year.
A Joint Coordination Center was also set up to inspect ships and monitor their movements.
The world breathed a sigh of relief when Russia agreed to the deal. By last October, Ukraine had been able to send out 4.2 million metric tonnes of grain and oilseeds. In the year since the deal was first struck, it has exported a total of 33 million metric tonnes.
So, Why Has The Deal Been Called Off?
Russia has pulled out of the deal.
Moscow claimed that its side of the deal was being ignored, because Western sanctions are still targeting Russian individuals and the state agriculture bank, preventing Russia's own exports going out.
Russia also said it needed to be readmitted to the SWIFT international payment system, and rejected a suggestion to create a new unit within the bank to allow transactions linked to grain trading.
Speaking on Monday, the U.N. Secretary General Antonio Guterres said: "Today's decision by the Russian Federation will strike a blow to people in need everywhere."
Did This Have Anything To Do With The Damage To The Crimean Bridge?
While this decision came just hours after Russia accused Ukraine of damaging the bridge between the annexed peninsula of Crimea and the Russian mainland, Moscow claims these two events were not related.
Dmitri Peskov, Russia's spokesperson, said the deal was "halted" until its own demands were met, including guarantees the West would facilitate its exports of grain and fertilizers.
"As soon as the Russian part is fulfilled, the Russian side will immediately return to the implementation of that deal," he said.
The agreement was already struggling even before Russia officially left it, with grain exports falling to just 1.3 million metric tonnes exported in May.
However, on Monday, the Russian Foreign Ministry also released a statement blaming continued Ukrainian "provocations and attacks against Russian civilians and military facilities" in the Black Sea area for its withdrawal for the deal.
It alleged that the U.N. and Ukraine's allies had not resolved Russian sticking points either, and that Western sanctions still restrict sale of its own goods.
Russia and Ukraine have also been arguing about who is more helpful when it comes to tackling world hunger for months now.
Vladimir Putin has previously claimed that just 3% of Ukrainian exports were going to poor countries, although U.N. figures don't stand that up.
What Does This Mean For Ukraine?
Ukrainian President Volodymyr Zelenskyy said Russia had broken the deal with the U.N. and Turkey, not Ukraine.
He also called for the deal to continue, just in a new form, saying: "Even without the Russian Federation, everything must be done so that we can use this Black Sea corridor."
It is possible for Ukraine to transport exports over land, but it's faster over sea, it now plans to use a route to get grain out through the European Danube river.
Ukraine has been preparing for this, having suspected Russia would pull out for months.
However, there will be extra pressure on Ukrainian farmers, as the extra logistics will drive up the costs.
What Does This Mean For Global Food Supplies?
For the rest of the world, there is a worry that this will bring extra disruption.
Ukrainian Foreign Minister Dmytro Kuleba said: "Russia is using hunger as an instrument to blackmail the world."
As German Foreign Minister Annalena Baerbock told DW, the grain deal "shocked" every country and every U.N. delegate.
She called for other countries outside of Europe to call on Putin to reinstate the deal.
Meanwhile, Turkey's President Recep Tayyip Erdogan has said he would speak to Putin about it.
Guterres sent Putin proposals last week to "remove hurdles affecting transactions," but a U.N. spokesman has since said there were no plans for the two to speak.
Meanwhile, U.S. Secretary of State Antony Blinken warned that this would have a "profound chilling effect" on the country's food exports, and the "safety, security, predictability" it offered commercial shippers.
"It's really hard to replace what's now being lost as a result of Russia weaponizing food."
(This story has not been checked by JK Mega and is auto-generated from other sources)