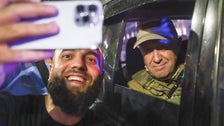 MINSK, Belarus (AP) — The president of Belarus says Russian mercenary chief Yevgeny Prigozhin is in St. Petersburg and his Wagner troops have remained at the camps they stayed in before an attempted mutiny against Moscow.
President Alexander Lukashenko helped broker a deal under which Prigozhin ended his abortive mutiny on June 24 in exchange for security guarantees for himself and his soldiers. The deal allowed Prigozhin and his troops to move to Belarus.
Lukashenko said last week that Prigozhin was in Belarus. He told international reporters Thursday that the mercenary chief is in St. Petersburg and Wagner troops still were at their camps.
(This story has not been checked by JK Mega and is auto-generated from other sources)