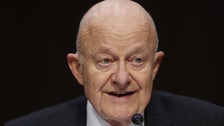 James Clapper, the former U.S. director of national intelligence, on Sunday said the Kremlin's deal with Wagner Group chief Yevgeny Prigozhin to stop the armed mutiny appears "fishy."
The rebellion, which lasted less than 24 hours, saw Prigozhin's forces taking control of the Russian military headquarters in Rostov-on-Don, which oversees fighting in Ukraine. The mercenaries later advanced toward Moscow before pulling back Saturday after the Kremlin made an agreement to send Prigozhin to Belarus, and pardon him and his soldiers. The fighters who didn't join the rebellion would be offered contracts by Russia's defense ministry.
Dmitry Peskov, the Kremlin's spokesperson, said the government was "grateful" to Belarusian President Alexander Lukashenko for brokering the deal.
"This deal to me is kind of fishy," Clapper told CNN's Jim Sciutto.
The Associated Press reported that a Russian news channel on Telegram said Prigozhin had been spotted at a hotel in Minsk on Monday, while Russian media claimed a criminal investigation into his conduct is ongoing, the news agency said.
Clapper said the fact that Prigozhin agreed to go to Belarus, "which is essentially from a security standpoint an extension of Russia," brings up further questions.
"I just wonder whether there was a deal or somehow behind the scenes [Russian President Vladimir] Putin exerted some form of leverage over Prigozhin that caused him to fold," Clapper said.
Russia expert Misha Glenny told BBC Breakfast that Prigozhin likely secured certain guarantees as part of the deal.
"He must be worried that Putin who basically prizes loyalty above all other characteristics of his friends and allies" could take revenge against him, Glenny said.
Glenny added that if Putin were to take out Prigozhin, that would fuel even more uncertainty with questions about what would happen to the troops under his control.
U.S. Secretary of State Antony Blinken on Sunday said we "haven't seen the last act" of this uprising.
"I think you have seen cracks emerge that weren't there before: first in having Prigozhin raise front and center — questioning the very premises of the Russian aggression against Ukraine to begin with — the argument that somehow Ukraine or NATO posed a threat to Russia, and a direct challenge to Putin himself," Blinken said.
The mutiny appears to have damaged Putin's standing in Russia and also has raised questions about its impact on the war in Ukraine.
(This story has not been checked by JK Mega and is auto-generated from other sources)