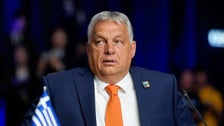 BUDAPEST (Reuters) – Hungary's Prime Minister Viktor Orban on Saturday renewed an attack on the European Union for conducting what he called an "LGBTQ offensive", saying his nationalist government would protect the country's Christian roots.
In a speech in Romania, Orban – a long-standing critic of Brussels – also said he hoped next year's European parliament elections would strengthen governments within the bloc that reject the "federalism" represented by Germany and France.
In power since 2010, Orban passed a law in 2021 banning the use of materials seen as promoting homosexuality and gender change at schools, citing the need to protect children from "LGBTQ propaganda" and thereby escalating a row with the EU.
He has also clashed with Brussels over other issues including the rule of law, and reforms to Hungary's media and the judiciary.
The EU is "either an empire or (individual) nations … We should not have any illusions: the federalists are trying to squeeze us out," Orban said.
"They openly wanted a change in government (in 2022) in Hungary," Orban said, adding that the same was now true of Poland.
Poland holds parliamentary elections this autumn, when the conservative Law and Justice (PiS) party will seek a third term. It has adopted many policies that chime with Orban's, and both countries are locked in a rule-of-law dispute with the bloc that has led to the suspension of certain EU funds.
Orban said a balance between federalists and nations unwilling to cede more powers to Brussels was upset when Britain left the bloc, and now only Warsaw and Budapest were "sticking to their (anti-federalist) stance."
He has meanwhile upped his anti-LGBT rhetoric as Hungary's economic troubles have escalated. Annual inflation topped 25% in the first quarter.
"The EU rejects Christian heritage, carries out a replacement of its population via migration … and conducts an LGBTQ offensive," he said on Saturday.
(Reporting by Krisztina Than; editing by John Stonestreet)
(This story has not been checked by JK Mega and is auto-generated from other sources)