The first round of voting in Greece's election last month showed conservatives outperforming expectations and leaving the main opposition party, left-wing Syriza, 20 points behind.
While many have focused on the extent of the conservatives' victory, one of the biggest takeaways from the May 21 vote was the resounding defeat of the opposition.
Nick Malkoutzis, the editor of Greek independent data and analysis website MacroPolis, explained that exit polls showed that around 40% of voters picked New Democracy because they thought it was the least bad option, indicating that Syriza missed a chance to convince those voters to back its party.
The lack of a unified message, particularly on the economy, and a poor campaign strategy have been cited as some of the reasons for the outcome.
As the country heads to the polls again this Sunday, there is concern over what a likely big win for the conservatives, juxtaposed with a fractured, weakened opposition, could mean for the future of democracy in Greece.
Opposition Fails To Present 'A Cohorent Campaign Message'
Analysts have attributed the poor performance of Syriza, in part, to the lack of a clear strategy. Syriza focused more on fighting New Democracy and pointing to the conservatives' failures instead of promoting its own vision for the country, experts said.
Syriza "had difficulty articulating a clear or coherent campaign message given that it was constantly second in all opinion polls," Harris Mylonas, an associate professor at George Washington University's Elliott School of International Affairs, told HuffPost. "As a result, it had to entertain several coalition government possibilities that probably unsettled many voters."
The first round of voting was conducted under a proportional representation system, following a law passed by Syriza in 2016, when it was in government. Despite knowing that this law makes it really hard for any party to secure an outright majority, Syriza leader Alexis Tsipras spent the ensuing seven years doing little to build the concept of a coalition in voters' minds and failed to meaningfully reach out to the other parties in parliament that could have helped him form a progressive alliance and a possible coalition government, Malkoutzis explained.
Niko Efstathiou, the deputy editor-in-chief at LIFO, an Athens-based independent news outlet, echoed Malkoutzis, telling HuffPost that this seeming inability of Syriza to find common ground with other center or left parties prompted last-minute undecided voters to gravitate towards New Democracy.
"I think this is something that's really damaged the left," Efstathiou said.
Separately, Syriza ran a negative campaign, failing to grasp that Greeks were ready to turn the page following years of austerity.
"Because of the huge cost of the very long economic crisis that we went through, there is more desire within Greece for positivity," Malkoutzis said, adding that voters appeared to favor the forward-looking approach of New Democracy leader Kyriakos Mitsotakis.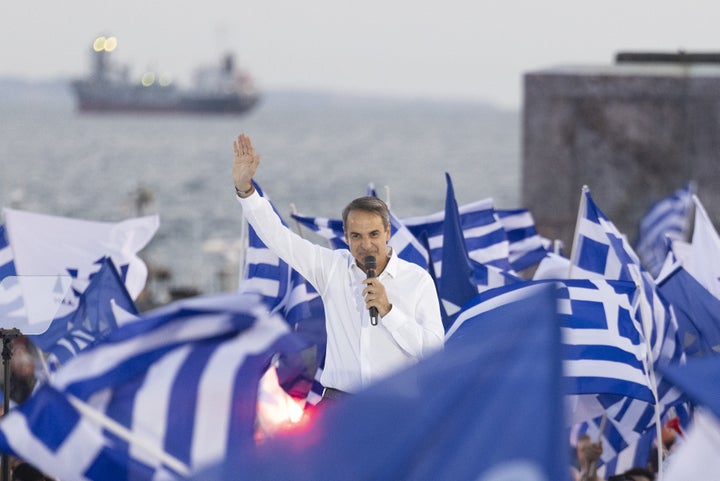 Kyriakos Mitsotakis, the party leader of New Democracy, holds a pre-election rally in Thessaloniki, Greece.
Achilleas Chiras/Anadolu Agency via Getty Images
Efstathiou added that Syriza's strategy stood in contrast with the conservatives' "business school-like campaign." New Democracy "managed to successfully set the agenda, mostly around economic issues," reflecting voters' priorities.
Tsipras' strategy to be everything to everyone by reaching out to right-wing voters did not prove convincing and also ended up alienating left-wing voters, leading to his big defeat, said Dimitris Christopoulos, a professor of political science and history at Panteion University in Athens.
For instance, the conservatives campaigned on extending the wall guarding the country's land border with Turkey and consistently pressed Tsipras to clarify its position on the issue.
Tsipras did not present an alternative, which Christopoulos said was a strategic mistake.
"If you want a fence, if you feel threatened by migrants, you'll never vote Syriza," he said. "You'll vote for the right-wing."
Left Fails To Capitalize On Scandals Involving The Government
Poor Treatment Of Asylum Seekers
The country's geographic location has meant Greece is at the forefront of the migrant crisis in Europe.
The Greek government has come under scrutiny for its treatment of asylum seekers.
Just days before the first election last month, the New York Times reported that the Greek coast guard transferred 12 asylum seekers, including young children, from the island of Lesbos to the middle of the Aegean Sea and left them there in an emergency raft in violation of both EU and international law.
The migrants were later rescued by the Turkish coast guard.
The Greek government has not commented on the report.
"It is partly this draconian treatment of migrants that has helped New Democracy shore up electoral support," Marina Prentoulis, an associate professor in politics and media at the University of East Anglia, wrote in The Guardian.
A BBC report published Monday also raised questions about the Greek coast guard's account of the deadly migrant shipwreck earlier this month.
The country's coast guard claimed that the boat was on a course to Italy and didn't need rescuing, while the British broadcaster has records showing the vessel wasn't moving for seven hours.
But none of these reports seems to have shaken support for New Democracy.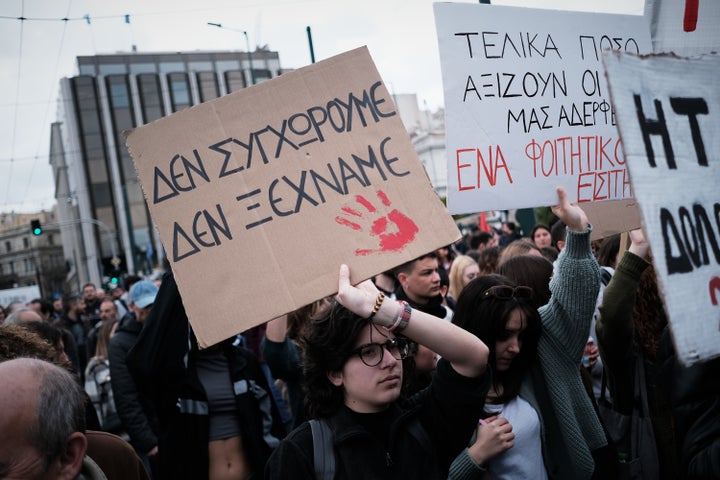 A deadly train collision in February led to protests and calls for changes to improve safety.
Nikolas Kokovlis/NurPhoto via Getty Images
'Greece's Deadliest Train Disaster'
The government faced yet another crisis after a northbound passenger train collided with a southbound freight train at Tempe, in Central Greece, in February.
The incident which claimed the lives of 57 people ― the majority of whom were young college students traveling after a bank holiday weekend ― was "Greece's deadliest train disaster," according to The Associated Press.
Mitsotakis pledged an investigation into the cause of the tragedy. He also promised his government would unroll a safety improvement plan and later appoint a commission to probe the mismanagement of the country's railway system.
Voters ultimately blamed the train derailment on "chronic problems of the Greek state rather than [New Democracy] per se," Mylonas explained.
Greek 'Watergate'
Last year, the wiretapping scandal the government was involved in, dubbed Greek "Watergate," generated negative headlines for the prime minister.
Mitsotakis confirmed Greece's intelligence service had wiretapped Nikos Androulakis, the leader of center-left socialist party Pasok and former European Parliament member, under a special warrant obtained for national security reasons. Androulakis also discovered his phone was infected with the Pegasus spyware software, but the Greek government said that was a "coincidence" and that the country's intelligence service doesn't use Pegasus, the Times reported.
Two people, including Mitsotakis' nephew, resigned from the government over the wiretapping scandal.
Financial reporter Thanasis Koukakis, who discovered his phone was infiltrated with Pegasus in 2021, was also likely surveilled by the country's intelligence service. The surveillance of reporters resulted in the country's drop in the Reporters Without Borders Press Freedom Index. Greece now has Europe's lowest ranking on the list.
Following the revelations, Mitsotakis passed a bill last year banning the sale of spyware but offered few details on how this would be enforced.
All in all, "people tend to think that the current government, problematic as it may be in certain circumstances, was a better crisis handler," Efstathiou said.
Conservatives Helped By A Favorable Media Environment
During all of the above crises, the conservatives have managed to deploy an effective communications strategy that relies on accepting part of the blame but deflecting the rest of the responsibility on others, including their predecessors, Malkoutzis said. Then, conservatives propose solutions to address the situation at hand, he added.
Coupled with a "heavily pro-government media environment," this has left the opposition at a disadvantage and struggling to take control of the narrative throughout the election, he said.
"In this environment, it was very easy for New Democracy to get its, let's say success stories across and for anything negative to be ignored," Malkoutzis added.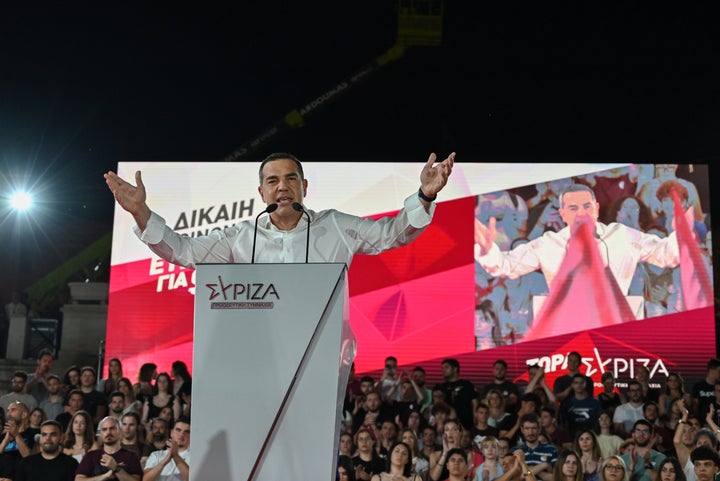 Syriza leader Alexis Tsipras speaks to supporters ahead of the second round of the Greek parliamentary elections.
Nicolas Koutsokostas/NurPhoto via Getty Images
Fractured Opposition
The first round of voting also saw Androulakis' party, Pasok, come in third by securing over 11% of the vote. Despite, in theory, representing the same side of the political spectrum, Syriza and Pasok are far apart, and many Pasok voters dislike Tsipras.
Meanwhile, MeRa25, another left-wing party created by former Finance Secretary and ex-Syriza MP Yanis Varoufakis, did not reach the 3% threshold to enter parliament in the first round and is unlikely to do so in Sunday's election, according to the polls.
Course of Freedom, a new progressive party led by former Syriza MP Zoe Konstantopoulou, is expected to secure about 4%, while the Communist Party of Greece is expected to get 7% of the total share, according to Politico's Poll of Polls.
Efstathiou said he will be watching for the dynamic between the left-wing parties that make it into parliament.
"Will they choose to coordinate and work together on certain issues where they agree?" Efstathiou asked. "Will they be competing for who ends up increasing their voter base even more?"
"That will be very interesting to see," he added.
Meanwhile, questions surrounding Tsipras' leadership are also expected to arise following what is expected to be another defeat. But his departure is not a given.
"Tsipras has been synonymous with Syriza's rise to power and its rise to prominence from really what was a fringe party," Malkoutzis told HuffPost. "So him leaving will be very much a big risk for the party."
A Problem For Democracy
Meanwhile, the far-right is set to have a greater voice in parliament as three parties representing that end of the political spectrum are likely to cross the 3% threshold.
"If you cumulatively add all the far right, or outright parties in Greece their power will be around 10 to 12%," Efstathiou said. "Even though they're very fragmented right now, if you add them all together, it's a very considerable political force."
Analysts also raised concern about what it might mean for democracy if conservatives secure an outright majority on Sunday while the opposition remains divided.
"The lack of a strong second pole in the party system, the lack of a formidable opposition, is perceived by many as a problem for democratic politics in Greece," Mylonas told HuffPost. "I expect that the center-left forces will focus on addressing this right after the election."
Christopoulos said we are entering a long period "where opposition is going to be very, very weak." That phenomenon is not unique to Greece, but is worrying nonetheless as one party will be in a position to exert more and more control over the country's institutions, he said.
"What are witnessing over the last years is the necessary material that can lead to a process of transforming this country to a Hungary of the European south," Christopoulos said.
(This story has not been checked by JK Mega and is auto-generated from other sources)