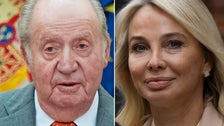 LONDON (Reuters) – Former Spanish king Juan Carlos on Tuesday asked a London court to throw out a 126 million pound ($165 million) lawsuit brought by his ex-lover, who accuses him of a campaign of harassment after she refused to return millions of euros to him.
The 85-year-old ex-monarch is being sued by Corinna zu Sayn-Wittgenstein-Sayn, who alleges Juan Carlos orchestrated threats, surveillance and intimidation from 2012.
Sayn-Wittgenstein says Juan Carlos gave her 65 million euros ($73 million) as a gift, to hide the money from the Spanish tax authorities, and she was then harassed by Juan Carlos or people acting on his behalf when she would not give it back.
Her lawyers say a book alleging Princess Diana was killed by British intelligence was left in Sayn-Wittgenstein's Swiss apartment when she was out, gunshots were fired at CCTV cameras outside her home and her mobile phone was monitored.
Juan Carlos "emphatically denies ever having harassed" Sayn-Wittgenstein, the former monarch's lawyer Adam Wolanski told London's High Court on Tuesday.
Wolanski said Sayn-Wittgenstein's lawsuit should be thrown out of court as she has no viable claim against Juan Carlos for harassment.
Once revered for his role in Spain's transition to democracy, Juan Carlos was forced to abdicate in 2014 following a series of scandals including his affair with Sayn-Wittgenstein and is now seen as a liability for his son, King Felipe.
Sayn-Wittgenstein is accusing Juan Carlos of "an alleged abuse of power wholly inconsistent with (his) important role in the transition of Spain to a successful parliamentary democracy", the former king's lawyers said in court filings.
However, Sayn-Wittgenstein's lawyers argue Juan Carlos is simply attempting to prevent the courts deciding her lawsuit, which was first brought in 2020 and has since been mired in disputes about whether Juan Carlos was entitled to immunity.
(This story has not been checked by JK Mega and is auto-generated from other sources)