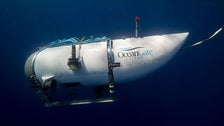 A former OceanGate employee reportedly emailed a colleague years ago sounding the alarm that the company's CEO might get himself and others killed due to safety issues with the Titan submersible.
"There's no way on earth you could have paid me to dive the thing," David Lochridge wrote in a 2018 email about the Titan and OceanGate CEO Stockton Rush, according to a new report in The New Yorker. "I don't want to be seen as a Tattle tale but I'm so worried he kills himself and others in the quest to boost his ego."
Rush was killed along with four other people last month when the submersible imploded during a dive to the sunken wreckage of the Titanic, located nearly 13,000 feet undersea in the North Atlantic Ocean. The company ferried tourist expeditions to the Titanic for $250,000 a ticket.
Lochridge was an employee at OceanGate between 2016 and 2018, CNN previously reported. He was involved in a legal dispute with the company after he was fired from his role as director of marine operations. Lochridge claims he was wrongfully terminated after calling out the Titan sub's design flaws in a report.
Lochridge's ominous email was sent to Rob McCallum, a dive expert who declined to be associated with OceanGate's Titanic expedition after Rush refused to have the sub-classed by a marine certification agency.
"I would consider myself pretty ballsy when it comes to doing things that are dangerous, but that sub is an accident waiting to happen," Lochridge wrote to McCallum.
In another exchange between the two, Lochridge said the Titan was "a lemon."
Lochridge was not the only former employee or industry expert to set off alarm bells about the Titan. In a separate warning in 2018, more than three dozen ocean technology experts co-signed a letter expressing "unanimous concern" about the Titan's design and plans to dive to the Titanic.
The Titan lost contact with its host ship 1 hour and 45 minutes into its dive to the Titanic on June 18. Authorities have since retrieved debris from the vessel and "presumed human remains" from the search area near the Titanic.
The other passengers on board were British businessman and adventurer Hamish Harding, French explorer Paul-Henri Nargeolet, and Pakistani businessman Shahzada Dawood and his son, Suleman.
(This story has not been checked by JK Mega and is auto-generated from other sources)