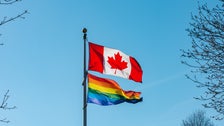 Canada updated its U.S. travel advisory on Tuesday, warning Canadians traveling to the U.S. to be cautious due to state laws and policies targeting LGBTQ people.
The "Laws and Culture" section of Canada's U.S. travel advisory provides information on dual citizenship, drugs, cannabis and other relevant topics for Canadian travelers visiting the U.S.
The website now includes a section for "2SLGBTQI+" travelers (two-spirit, lesbian, gay, bisexual, transgender, queer, intersex and others), who make up a population of about 1 million in Canada.
"Some states have enacted laws and policies that may affect 2SLGBTQI+ persons," the travel advisory now states, adding that LGBTQ travelers should check relevant state and local laws.
The U.S. has passed nearly 500 anti-LGBTQ laws in states across the country, with many targeting gender-affirming care, school discussions on LGBTQ people and issues, and access to bathrooms that align best with one's gender identity.
In May, the Human Rights Campaign, which is the country's largest LGBTQ rights organization, issued a travel advisory for Florida due to such state's policies targeting LGBTQ people. Shortly after, the group declared a state of emergency for the LGBTQ community in the U.S.
While Canada's U.S. travel advisory didn't name specific states, it did link to advice and resources on how to travel safely based on sexual orientation, gender identity, gender expression and sex characteristics.
Canada's Deputy Prime Minister Chrystia Freeland defended the travel advisory update during a press conference on Tuesday, stating that the warning was not politically motivated but rather intended to ensure safety for Canadian travelers, according to the National Post.
"We have professionals in the government whose job is to look carefully around the world and to monitor whether there are particular dangers to particular groups of Canadians. That's their job and it's the right thing to do," she added.
Canada's government webpage on LGBTQ Travel notes that travelers may face barriers and risks anywhere in the world outside of Canada due to foreign laws and customs related to sexual orientation, gender identity and gender expression.
According to the Human Rights Watch, at least 67 countries have national laws criminalizing same sex relations between consenting adults, and at least nine countries have national laws criminalizing forms of gender expression.
An estimated 400,000 people cross the Canadian-U.S. border every day, and about 800,000 Canadians live in the U.S., according to Canada's government website. The U.S. is still marked as green under Canada's travel advisory and advice page, indicating that travelers should take normal safety precautions when visiting the country.
(This story has not been checked by JK Mega and is auto-generated from other sources)