BURG, Germany (AP) — Two teachers in eastern Germany tried to counter the far-right activities of students at their small-town high school.
They counseled bullies who threatened to beat up immigrant classmates. They gave more lessons about their country's Nazi past. They invited in a Black rapper to talk about mutual respect.
None of it helped. In desperation, Laura Nickel and Max Teske wrote a public letter in which they described an atmosphere of intimidation at Mina Witkojc School in Burg. They reported students greeting each other with the Nazi salute, scratching swastikas on their desks and playing music with racist lyrics in the hallways.
"Teachers and students who openly fight against far-right students and teachers fear for their safety," the two said in the letter they sent to local newspapers. "The problem has to be recognized and openly fought. Schools should be places free of fear, full of open-mindedness and safety for everyone and cannot provide a home for the enemies of democracy."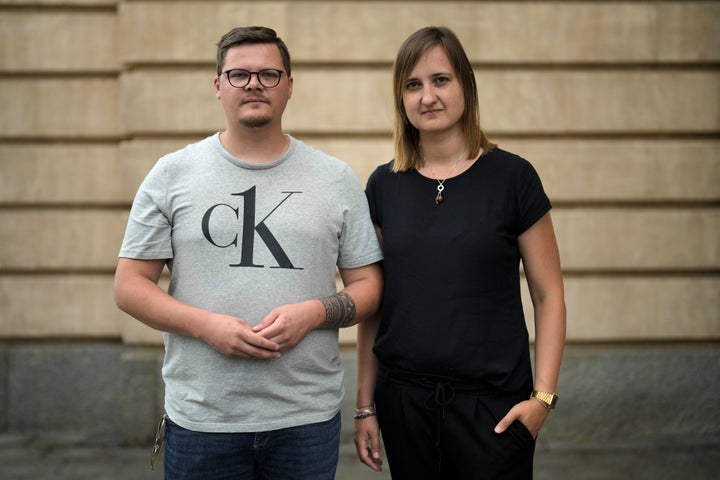 Teachers Laura Nickel, right, and Max Teske, left, tried to counter the far-right activities of students at their small-town high school. Disheartened by what they say was a lack of support from fellow educators, they decided to leave.
Even so, Nickel, who taught English and history at the high school, and Teske, a math and geography teacher, were unprepared for the backlash their call to action produced.
A letter from an anonymous group of parents demanded their dismissal.
Stickers with their pictures and the caption "Piss off to Berlin" plastered light-poles near campus. On social media, someone declared a desire to "hunt them down."
Further disheartened by what they say was a lack of support from colleagues, the principal and local administrators, Nickel and Teske announced when the academic year ended two weeks ago that they were leaving the school and the town located 116 kilometers (72 miles) southeast of Berlin.
"Far-right extremist statements, actions, slogans, homophobia and sexism were and are the order of the day at this school," Nickel, 34, who worked at Mina Witkojc for four years, told The Associated Press in a joint interview with Teske, 31, who taught there for three years.
Neither the school nor the local school authority responded to the AP's requests for comment on the teachers' resignations.
But Teske and Nickel's experience has aroused fears in the German capital that the far right has gained a greater foothold in some parts of the former East Germany than many thought.
Experts say that especially in the south of Brandenburg state, where Burg is located, an entire network of tattoo parlors, nightclubs, youth groups and fan clubs of the FC Energie Cottbus soccer team spread the messaging of the far-right Alternative for Germany, or AfD, party.
Earlier this month, Brandenburg state's domestic intelligence service declared Young Alternative for Germany, the AfD's wing for supporters age 14 and above, as particularly radical and put it under official surveillance as a "proven right-wing extremist" group.
The state education ministry, which was criticized for not supporting the teachers enough, announced last week that authorities had identified a teenager suspected of originally posting the "hunt them down" post on Instagram.
Amadeu Antonio Foundation Executive Director Timo Reinfrank, whose organization promotes human rights while working against right-wing extremism, racism and antisemitism in Germany, told the AP that southern Brandenburg state has become "a zone of fear which the Nazis have declared as their home zone."
Reinfrank said that's not really a surprise for those familiar with the area, where the far right was active even before AfD's founding a decade ago. The foundation he leads was named for an Angolan contract worker who in 1990 was beaten to death when a group of about 50 youths with baseball bats went looking for Black people to attack in the Brandenburg town of Eberswalde.
AfD was founded in 2013 and first entered Germany's parliament four years later after campaigning on an anti-migrant platform. Recent polls show the party with a record level of support nationally, about 20%.
The reasons for its particular appeal in eastern Germany are manifold. East Germany was a communist dictatorship until the fall of the Berlin Wall in 1989, and many people there lost their jobs after Germany's 1990 reunification.
Residents still speak of feeling like second-class citizens compared to Germans in the country's west.
AfD has used the coronavirus pandemic and the influx of 1.2 million Ukrainian refugees since Russia invaded Ukraine as opportunities to promote an "us vs. them" narrative and to offer what seems like simple answers to complex problems, experts say.
Many think AfD could emerge as the strongest party when Brandenburg and the fellow eastern states of Saxony and Thuringia hold elections next year. In Thuringia, the AfD candidate last month won the county administrator's post in Sonneberg, the first time since the Nazi era that a far-right party placed first at the county level.
Meanwhile, Chancellor Olaf Scholz's center-left governing coalition with the environmentalist Greens and the pro-business Free Democrats has a reputation for infighting and faces strong headwinds over immigration, an environmental plan to replace millions of home heating systems and inflation that remains high.
For people like Nickel and Teske, standing up against right-wing populists comes at a steep personal price. After the teachers announced their withdrawal from Burg, the head of the AfD chapter in Cottbus, Brandenburg state's second-largest city, cheered on Twitter that Teske, whom he called a "leftist radical informer," and his "accomplice" were gone.
The police are investigating threats against the teachers, and officers patrol past their homes frequently. When Teske goes out, he often looks over his shoulder to see if somebody might be following him. Recently, a man approached him in a grocery store from behind and whispered, "Get out of here," into his ear, he said.
Yet he refuses to see the decision to leave town as a defeat. By calling out the dire conditions at the school, he and Nickel sparked a much-needed national debate about the rise of the far right in Germany, Teske said.
"We will continue to be loud, we will continue to make a political impact, and won't let the far right win," he said.
Germany, where the Nazi party was elected to power 90 years ago and led the country into World War II and the Holocaust, has a special responsibility to fight far-right populism, Nickel added.
"History repeats itself, and I believe that we must definitely do something now to put a stop to anti-democratic parties in Germany," she said.
(This story has not been checked by JK Mega and is auto-generated from other sources)